Blue Jays Super Camp (2019)
---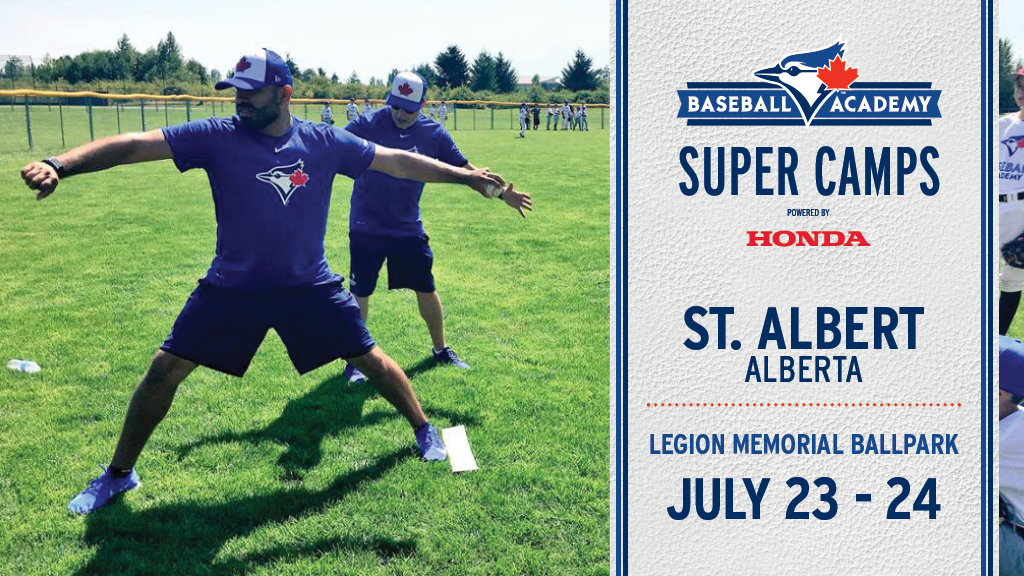 Blue Jays Baseball Super Camp 2019
July 23-24, 2019 - Legion Memorial Ballpark
The Toronto Blue Jays Baseball Academy will host Super Camps powered by Honda across Canada for baseball players of all skill levels aged 9 to 16. These two or three day, four hour camps (five hours for Rogers Centre) take place in July and August.
Super Camps powered by Honda are the ultimate Major League Experience! Camps are taught by both Blue Jays Alumni and Blue Jays Baseball Academy Instructors in an organized, structured, and fun environment that helps develop their baseball skills. Blue Jays Alumni, some of which have been participating in Super Camps powered by Honda for several years, enjoy giving back to the baseball community of Canada and sharing their knowledge, skills, and experience with youth players across the country. Our Blue Jays Academy Instructors also travel with us to each city, and are NCCP registered, experienced coaches, trained in the 'Blue Jays Way' of teaching baseball to youth. We also team up with coaches from local baseball associations to help develop their instructing skills to take back to their local teams.
Players will rotate through stations that cover skills including: hitting, pitching, infield, outfield, base running and agility.
Participants will receive a Blue Jays hat, T-shirt, baseball manual with information to take home to continue to develop their baseball skills, and autographs from the alumni present.
Typical Camp Schedule
Check in: 8:00 a.m. to 9:00 a.m.
Introduction: 9:00 a.m. to 9:15 a.m.
Stretch: 9:15 a.m. to 9:30 a.m.
Morning Stations: 9:30 a.m. to 11:00 a.m.
Break: 11:00 a.m. to 11:30 a.m.
Afternoon Stations: 11:30 a.m. to 1:00 p.m.
What items are required for participants to bring?
Baseball Bat (wood or aluminum)
Pair of running shoes or turf shoes
Pair of baseball cleats
Baseball Glove
Batting Helmet
Baseball Pants
Batting Gloves (optional)
Jock/Cup
Water Bottle/ Snack
For more information click
Contact:
Blue Jays Baseball Academy Hotline
416-341-2500